Dental Checkups at East Fremantle Dental Centre
At East Fremantle Dental Centre we provide a broad range of solutions to make sure that your entire family has great oral health. To maintain your teeth and gums, we recommend having maintenance hygiene appointments every six months. With these regular visits, you can be certain that your smile will stay beautiful and bright. They consist of a scale and clean, fluoride treatment and oral hygiene instructions from our experienced staff.
Scale and Clean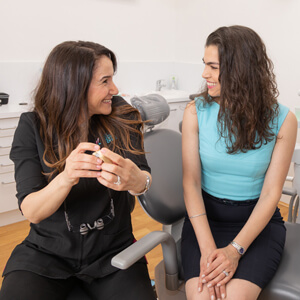 Though you make an effort to brush and floss regularly, you may still have a buildup of plaque and tartar on your teeth. We'll gentle remove any buildup present, which is responsible for causing tooth decay and gum disease using specialised instruments. In doing so, we reduce your risk of caries, periodontal disease and bad breath. Your teeth are then polished to a luminous finish, leaving them smooth and clean-feeling.
Fluoride Treatment
We apply a fluoride solution to your teeth during your maintenance hygiene appointments. This topical application reinforces the enamel of the teeth, making them more resistant to attacks from acids that are in your food and drink.
This preventative measure is ideal for patients who are at risk of teeth decay. For 30 minutes afterward, don't eat or drink so that the fluoride sits undisturbed on your teeth.
Oral Hygiene Instructions
We'll make recommendations to you on products you use and the techniques that are best for brushing and flossing. If you require interdental brushes or other specialised tools, we'll speak to you about them. We'll also discuss your diet and recommend the elimination of any factors that might contribute to erosion or teeth decay.
Schedule Your Appointment
Does your oral health need a boost? Our maintenance hygiene appointments East Fremantle will keep your teeth and gums feeling and looking great. Contact our team today to book your time with us! Health funds are accepted with rebates claimed on the spot with our HICAPS machine.
---
Dental Checkups East Fremantle, Bicton, Palmyra WA | (08) 9339 2948