Dentures at East Fremantle Dental Centre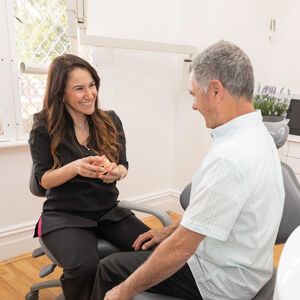 If you're missing multiple teeth, the team at East Fremantle Dental Centre can provide you with varied solutions to restore your oral health. You want to eat, speak and smile without feeling concerned and having your self-esteem take a hit. When dental implants or bridges aren't suitable, dentures may be the most appropriate option to replace your teeth.
The Two Types of Dentures
We provide two different forms of dentures to suit your needs: full, and partial. A full denture replaces all teeth. A partial denture is appropriate when you have some teeth left but multiple gaps in your smile. They can be made of acrylic or metal materials. We'll be sure to discuss all options with you so that you know what our recommendations are before proceeding.
What to Expect
There are a few appointments necessary to get dentures:
First Appointment: The first step is to have a consultation to make sure that dentures are appropriate for you. We'll check any existing teeth that are left to make sure they're healthy and can hold your denture in place. We also look at the gums and soft tissues to check their health. Step by step, we'll show you what we're doing so that you feel confident in going through the process. At the initial appointment, we'll take impressions of your mouth.
Second Appointment: A second appointment is then necessary to take impressions with individually made trays. Created specifically for you, these trays will fit your gums evenly to provide a more accurate mould. This is the mould that we'll use to build your denture.
Third Appointment: At a third appointment, we'll measure your bite wearing wax blocks. The height of your lower face will be measured to make sure that we have the appropriate proportions for your dentures. We'll go through the shape and colour of the teeth that you'd like to have on your new dentures.
After your denture has been fabricated, you'll return to try them out. We'll check the size, shape and colour, as well as the bite and function to ensure your satisfaction. If everything is correct, the dentures will have the finishing touches added. You'll receive them and start to wear them.
Suiting Your Smile
When we design your dentures together, we can add subtle touches such as a gap between the front teeth or a slight rotation to a tooth to make the denture appear natural. Dentist Dr Carmen Hobeika takes all the time necessary to carefully design your denture, making sure that you feel pleased with the way it looks.
If you require adjustments after receiving your denture East Fremantle, we'll be happy to book you in for an appointment and look at the way they fit.
Contact us today to arrange your visit! We accept health funds and have a HICAPS machine on-site.
* Any surgical or invasive procedure carries risks. Before proceeding, you should seek a second opinion from an appropriately qualified health practitioner.
---
Dentures East Fremantle, Bicton, Palmyra WA | (08) 9339 2948