Comprehensive Dental Exams at East Fremantle Dental Centre
At East Fremantle Dental Centre, we believe in preventative visits to make sure that you have a healthy, happy smile. An examination is one of the most essential steps that you can take to ensure that you have the best possible oral health. The examination process with our team is extremely thorough. You might think of it as an evaluation of your teeth and gums, but we take extra steps to check your entire mouth and jaw, too. We'll be sure to identify any potential problems so that they can be addressed straightaway, avoiding costlier and more complex treatment in the future.
What to Expect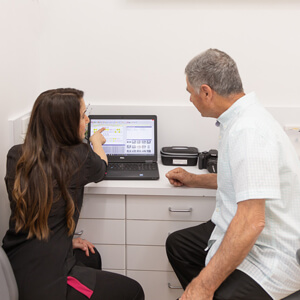 When you visit our practice for an examination, there are several different steps involved:
An evaluation of the jaw joints and lips
An intraoral assessment of all soft tissues
An evaluation of the gums
An assessment of each tooth
We'll check if there are any signs of clenching or grinding of the teeth, clicking jaw, tooth wearc cracks or restricted jaw movement. Next, we'll assess your jawbone for its function and any signs of infection. With magnifiers on, Dentist Dr Carmen Hobeika will look at your palate, under your tongue, lips and soft tissues in the mouth to check for signs of oral cancer or other diseases.
With a periodontal probe, your gums will be gently checked, looking for pocketing that indicates gum disease. If any bleeding occurs, it may be a sign of gingivitis. We'll look at the buildup around teeth, too. Each tooth is examined for signs of decay, cracks or decalcification. If you have restorations such as a crown or bridge, we'll check the integrity of them.
Dr Carmen will inform her assistant of each finding so that the details can be recorded in your file.
Detailing Our Findings
Once this thorough process is complete, we want to go through all of our findings with you. We might look at X-rays or photos if they were taken to show you anything important that we've identified. We'll detail any oral hygiene routines we think are essential to your oral health. If further treatment is needed, we'll go over all the possible options so that we can create a plan that works for you.
In total, the examination takes about 45 minutes. We don't rush things and will have plenty of time to answer your questions and explain our findings in understandable terms so that you can make an informed decision about your treatment.
Want to Learn More?
Contact us today to book a comprehensive dental examination East Fremantle! We accept health funds and your rebate can be claimed on the spot with our HICAPS machine.
---
Dental Exams East Fremantle, Bicton, Palmyra WA | (08) 9339 2948