Teeth Whitening at East Fremantle Dental Centre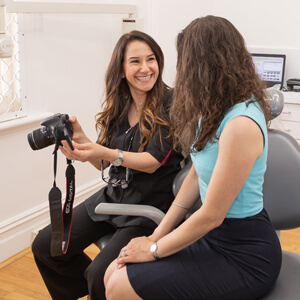 Whitening teeth is becoming increasingly common around the world. People are discovering that it is a simple, highly effective way of showing off a rejuvenated look. If you would like to improve the aesthetics of your smile, we provide three options at East Fremantle Dental Centre: a take-home kit, an in-chair session with a strong concentration or an in-chair session that is accelerated with a specialised light.
Offering Options to Suit Your Needs
Teeth whitening is a conservative approach to enhancing your appearance. You may be a candidate for alternative treatments, such as veneers, but since teeth whitening is completed easily, we recommend it to people who want to transform their smile.
You can select the option that you prefer based on your budget and whether you'd like quick results or if you prefer to complete the procedure in the comfort of your home. We'll discuss our recommendations depending on the level of discolouration you have, your teeth sensitivity and the condition of your gums.
In-Chair Whitening
In a single appointment, you can see immediate results from teeth whitening. We encourage you to bring your headphones with so that you can relax while the procedure is completed. We'll isolate your gums and soft tissues so that they're protected, then apply a strong concentration of gel on the teeth in custom-created trays. The process is repeated three times, taking about 45 minutes in total. If you choose, we can provide a light to activate additional whitening depending on what's discussed and agreed with the patient.
We'll give you a touch-up kit that you can apply to accelerate your whitening. You'll receive a desensitising agent to use at home, and we'll talk to you about dietary tips to keep your teeth bright. Your progress is checked in a week to make sure that the changes we wanted to see are present.
Take-Home Kits
If you want brighter teeth but find it difficult to make an appointment at our practice, we can give you a take-home kit. You'll receive trays and gel with complete instructions on how to proceed. We may take photographs to analyse the shade of your teeth. We'll give you a desensitising agent that you can use to minimise any teeth sensitivity afterwards.
Ready for your Best Smile?
Contact us today to learn more or book your appointment for teeth whitening East Fremantle! We have same-day visits available.
* Any surgical or invasive procedure carries risks. Before proceeding, you should seek a second opinion from an appropriately qualified health practitioner.
---
Teeth Whitening East Fremantle, Bicton, Palmyra WA | (08) 9339 2948